Des Moines West KOA – Adel, IA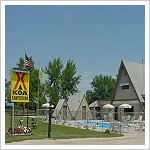 We stay at Des Moines West KOA each time we pass through Iowa. The young folks that own it have turned this campground into a beautiful, super clean, marvelously maintained RV park. 100% first class!!!!
You can't believe the peaceful days and nights at this place! We've never found a park that we could just sit under our awning, put our feet up and R-E-L-A-X as we do here.
The owners are the sweetest "kids" you could ever meet. They honestly treat you like family as soon as you pull in the drive.
This is a wonderful park. We HIGHLY recommend you stop by. You won't be disappointed!!!