Fort Custer Recreation Area – Augusta, MI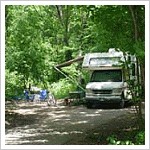 My adult son and I spent five July 2008, nights camping in a tent at Fort Custer State Recreation Area between Battle Creek and Augusta, Michigan.
We arrived about three days after rain, but the mosquitoes remained active. I am quite allergic to mosquito bites so each evening, I had to change to jeans and long sleeves to reduce my exposure. Even with a strong fire and several citronella candles, we couldn't rid our campsite of the pesky bugs.
Finally, off to a shopping center I went for a screen room. The final two evenings I enjoyed the campfire and my evening meal with far fewer mosquitoes having their dinner at my expense.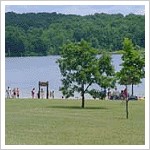 The park is very large. Several lakes offer fisherpersons great hopes. Alas, the week we were there, few people caught fish in the areas we tried. Mostly, we drowned worms and expectations equally. Still, the quiet and the peace of fishing was great.
Interior roads are paved. Campsites are spacious and separated by trees and bushes, the source of all the mosquitoes. The walk to the bath area is quite long, and we used the pit toilet several times just to avoid the long walk. We typically drove to the bath house for showers because of the distance.
Another negative is the small bath house which has fewer showers than needed on a busy weekend. Our loop had about 100 campsites yet only five showers were available for all of us to use. The showers were very good, however, and we had no problems washing.
Once we had the screen room, we were much more comfortable. Camping in a hard wall camper would be enjoyable at this park, but without the hard walls, the screen room was a necessity.
I wish Michigan could spend just a little more on signage to help campers locate their parks. For out of state visitors, the path to a park isn't always easy to find.
Employees at this park were very friendly and helpful. Give them a high score for making us feel welcome.
The park rates a 5 out of 10. I loved the park, but I hated the mosquitoes.