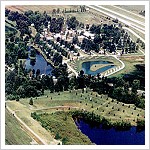 Beaver Trails Campground has been expanded and converted to a Yogi Bear's Jellystone Park. The campground is a great family oriented campground in a beautiful setting, although being relatively close to the Interstate it can be a bit noisy at times.
They have lot's of neat amenities for the kids including a petting zoo, mini-golf ($), and free train rides around the park. They also have a slide pool with 3 seperate large water slides ($). All your typical amenities are here too (horseshoes, game room, laundry, etc.). They have a wonderful little snack bar called the "Picnic Basket" that has breakfast and lunch daily and pizzas and chicken wings for dinner. They also make donuts every Saturday morning!
There's lot's of activities and entertainment too! Free hayrides daily, video rentals, karaoke, crafts and scheduled events.
The campsites are average, nothing special, but are large and many are shaded. They have quite a few extra-large pull-thru sites and full hookups. Wi-fi is also free here and the signal reaches most of the park.
The facilities were clean and well maintained. The staff was very helpful and friendly. As you can imagine with all these amenities, this is a busy campground in the summer. If you've got kids, they'll have no trouble keeping occupied. If you're looking for a quiet, secluded place to get away from it all, I would suggest that you try one of the other campgrounds in the area.