Sponsor
Mohican State Park Campground – Loudonville, OH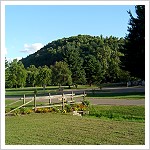 We live close to Mohican State Park Campground and naturally started camping here when we purchased our camper. What we have discovered as we have ventured out and looked at other campgrounds is that we are spoiled by what we have a Mohican State park. This class A campground has 33 full hookup and 118 water & electric sites.
The sites at this campground are large, paved, and level for the most part with plenty of trees. The bathrooms are everywhere and there are three seperate shower houses.
Mohican State Park Campground is hard to beat for us.
Sponsor