Big Pine Campground – Custer, SD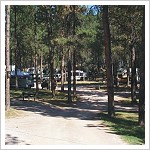 Big Pine is a GREAT campground. We stayed there in July 2007. Every site is nestled among large pine trees, and the bathhouse was sparkling clean. When we did not have what we needed to level our trailer (we were relatively new to camping) the owners were very helpful, supplying us with what we needed. Also, when the little store did not have an item we needed, they were happy to suggest where to find it elsewhere in Custer.
This was our first long trip in our trailer, and we were a long way from home, but the wonderful people at this campground were very reassuring and helpful. If we ever make it back up to South Dakota, we will definitely stay at Big Pine!