Cape Ann Camp Site – Gloucester, MA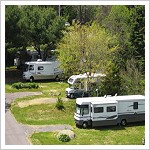 Cape Ann Camp Site is located 30 miles northeast of Boston in the historic city of Gloucester. It is a beautiful RV and tenting park in the middle of a great destination — and you really can't get any better than this small fishing village on the coast of Massachusetts.
We stayed here last fall and had a wonderful time. The owners are helpful and very friendly and made us feel welcomed. There are sites that have a great view of the river that is tide driven plus numerous sites behind the office that are completely wooded and absolutely wonderful.
Each of the 200 sites at this campground are unique. Whether you have an RV and would like a full hookup site with a water view or you have a simple tent and love the shade, this campground has a spot for you. There are six toilet and shower buildings, and a small campsite store stocked with ice and wood.
You are camping in an environmentally sensitive area, close to fragile marshes and estuaries, so there are a number of rules to follow when you're here. The facilities are clean and well maintained. Each site is level and has a picnic table and a fireplace. They also offer a centrally located Wi-Fi signal and Wi-Fi on big rig spots.