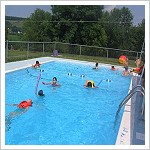 My husband, myself, my 4year old son and my daughter and 3 dogs all camped July 4th weekend 2008 at Tall Pines! I have to say it was the best 4th of July I have ever had.
The campground has a lot to offer for everyone. The staff is wonderful and we were first time campground campers and felt right at home and they were very friendly. My husband and I have already planned a 10 day family vacation there it was so wonderful.
Thank you to all the staff make sure when you stay there you say "hi" to Eddy and Pat. They are great. My son really loved them. Have a great time I know you will!