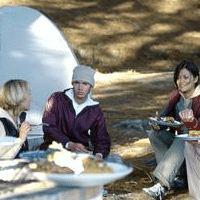 I would not recommended Canyon Pine RV Park.
In my opinion the staff is rude, there is no cell service (anywhere in the canyon), and their wifi is inadequate. The campground is run down, with grass dead, and the bathrooms were not well maintained.
There are no rules posted or handed out to guests. The result… parties until midnight, dogs running loose, and no respect for another person's campsight.
I suggest that you go north to Grangeville or south to New Meadows. This park is one of the worst we've been in.