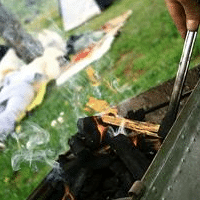 Coeur D' Alene RV Resort – Post Falls, ID
We stayed at the Coeur d'Alene RV Resort, located in Post Falls, Idaho, in August of 2011. It is a decent park and has the potential to be a great park. The problems I noticed are as follows.
Amenities: The picnic table at our site was in poor condition and the wood was rotting. I sat on the seat, the boards came up and I fell to the ground! They have an indoor pool and hot tub. They actually have two hot tubs but one was covered with plywood. Their office is open from 9am to 8pm during the summer. However, the pool doesn't open until 10am for adults and 11am for kids. With check out at noon, that doesn't give much time for the kids to swim and shower before leaving. The pool closes at 7pm for kids, 8pm for adults. The pool water and air temperatures are kept uncomfortably warm in their pool room, especially for the month of August. The shower for rinsing off in the pool area has no hot water.
Policy: Their base rate is for 2 people, which, at the time of our stay was $36 (+ tax) for a 30 amp back-in site. Additional charges apply for kids or dogs. It is $3 (+ tax) per day for each additional person, $3 (+ tax) per day for each dog and the same for an extra vehicle. The same goes for their weekly rates as well. You pay an extra $21 (+ tax) per week for your dog. Better hope you don't have 3 or 4 kids! The manager showed up in the office on a Saturday morning in her pajamas with her hair looking like she just crawled out of bed – not very professional. Her son was with her (I know because he called her "Mom"). He looked to be about 8 or 9 years old. He was throwing a major screaming tantrum in the office area – also not very professional. Later that day, he had a Kool-aid stand next to the front door. It makes me wonder if they let anyone set up a table to sell things at the front door or only the manager's son?
False Advertisement: The billboard seen from the freeway states that there is a "shuttle" available. However, the staff said that it had not been offered for quite some time. Their brochure and website states that they offer a "state of the art fitness center." However, literally half of the equipment is broken. Their brochure states that they offer "spotless laundry facilities." When I was there, the washers were filthy on the tops and around the door hinges. The floor was also dirty and scattered with debris. The washers are top load with a small capacity.