Southside RV Park – Dillon, MT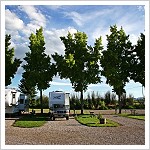 I had the very great pleasure to stay as guests of Tim and Janet Gore, owners of the Southside RV Park from July 2nd through July 5th, 2008.
Their park was immaculate, well laid out, with ample room to maneuver even the largest vehicles. There was well groomed grass at every site, with hard packed gravel to park on. Sites had full hook ups. There was a wonderful creek running through the park, and I saw some pretty nice trout while I was there.
The campground had very well maintained facilities for meetings or the weekly pot lucks. The owners go way out of their way to make your camping experience the most pleasant possible. If there is a problem, its not I will get to it soon, its right now.
Great fishing and guides are available. There is also wonderful food nearby… Sparky's Garage for prime rib is a good play.