Turtle Rock RV Resort – Gold Beach, OR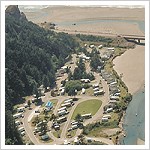 Turtle Rock is a very pretty park on a creek and right next to the ocean. You can walk to the beach. The grounds and bathrooms are kept neat and clean and the sites are large. The staff is friendly and knows what they are doing.
We had this campground recommended to us by some RVers that we met in another park and they were right. When we were there we rode the jet boats which were great and had fun exploring the coastline. The staff let us take a peak at the new new clubhouse which was almost finished. It's big and has a rock lined fireplace, very well done. They also have a small store and there are several grocery stores are close by.
We were there in May. We recommend this park.