Lake Chelan State Park – Chelan, WA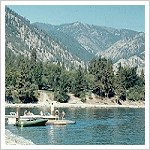 Just west of Chelan WA, this park is wonderful, 127 acres, 6000′ of shoreline, some of which is sandy beach, expansive lawns for the kids to run, boat dock and lots of fishing piers.
The one big downer is that the spaces are short and except for a few exceptions (like where the host parks) if your rig is over 30 foot, you just won't fit. We were in space 3 and our RV is 29 foot and it just kissed the road. There are a couple of dry spaces that might be a little longer but not many of them either.
Tenters have some great sites, some are right on the water, some are nestled in the woods and provide complete privacy and some are hike ins that have great views of the lake. The town is about 10 miles west and has a brand new WalMart and a Safeway.
Reservations are accepted via Washington State Park site and I would recommend getting them during summer season.