Sponsor
Alpen Rose RV Resort – Durango, CO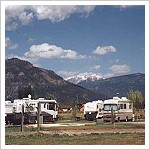 Alpen Rose RV Resort is a very nice park with a great bunch of workcampers! The campground is set in the San Juan Mountains, and Durango has many attractions to enjoy. After a day of sight-seeing, this campground is a great place to relax and enjoy spectacular mountain views.
The campground has about 100 sites… mostly grassy, but the pull-thrus are located in a section of the campground with large trees and do have substantial shade.
Amenities include free cable TV and wi-fi, a heated swimming pool, an arcade/game room, playground, laundry, restrooms and a small store with groceries and gifts. They also have a pancake breakfast daily! The facilities are clean and well maintained.
It's a nice campground. While we were just passing thru the area and probably won't be back this way for some time, I would recommend this campground to others considering a place to stay while in the area.
Sponsor