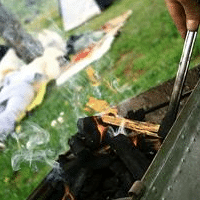 Higginsville Fairgrounds City Park – Higginsville, MO
Located from the Free Campgrounds book. Based on the book, we assume there was a campground in this park at one time, but we were unable to locate it.
Local park users that we spoke to were unaware of any campground. We did, however, locate a string of 4 or 5 electrical hook-ups in a parking lot alongside the ball field's fence; and took advantage of one for just overnight.
Best guess is that the city fathers are no longer operating a serious campground area in this park.