Cactus RV Park – Tucumcari, NM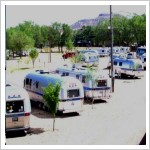 Cactus RV Park is a nice, clean campground on old highway 66. The Old motel at RV park is on the national register of historic places.
The campground is easy in and easy out to highway 40. They have Wifi to all sites and they are working on cable TV to all sites. The campground owner was eager to make everyone's stay as pleasant as possible.
I would stay there again as it is easy to walk to restaurants and there is no highway noise.