Denton Ferry RV Park – Cotter, AR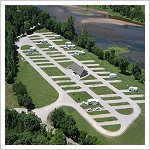 This is a beautiful RV park located right on the White River. Great views! Trout fishing right at the campground. The park is quiet, clean and well maintained. Staff was extremely friendly and available most of the time.
The clubhouse/office area is very nice with a small convenience store that stocks a limited amount of groceries and camping supplies. Very nice lounge area too. Facilities were neat and clean. Biking trails, boat rentals, shopping and golf nearby.
This is one of the nicest RV parks we've ever stayed. I recommend it to all my friends.