Sponsor
East Lake Fish Camp – Kissimmee, FL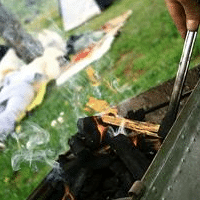 They are trying to call themselves an RV resort. It was 90 outside and 15 minutes in the pool and you were shivering. I asked the management when they started heating the pool… pool is not heated.  It is close to Disney – 15 miles but it takes 45 minutes due to traffic.
They are off the beaten path and they have so much going for them with big beautiful sites under huge old growth oak trees, but the bugs are bad. Also be very careful if you stay there for a month. It's $400 for the month – plus $52 in taxes for 2 people plus electric. Their electric is outrageous. My 36′ fifth wheel – had the refrigerator on gas for 2 weeks, electric for 2 weeks and air off and on only 1 week and tv off and on, water heater on gas – and the electric bill upon check out was $85 for one person, 30 days. The manager told me upon check out it was the taxes. My kids were there 2 days in October and their electric bill was $35.
I met some people who came in from Montana for a month but decided to only stay for a week.
They have a lot to learn if they are going to call themselves a resort.
Sponsor