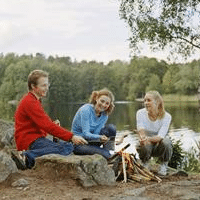 Atlanta South RV Resort – McDonough, GA
Camper's beware. This campground may look great on the website, which is the way I found it, but it is far from what it appears.
I should have known something was wrong from the moment I signed in Sunday June 8th, when Georgia Power was working on the power "problems". After finding a site that was not very level, we had to reset the breaker maybe 10 times the first night; we had to turn everything off with the exception of the AC (99deg) in order to keep from tripping the breaker which later had to be replaced along with the plug recepticle (popped and started to smoke). The maintenance folks stated numerous times the camp has electrical problems.
Besides the noise from I-75 this place is loud with lots of vehicle traffic moving in and out at all different times of the day and night. The roads are very narrow. Manuvering in and around the campground does require some special skill in order not to hit other campers.
The website advertises that they have WiFi… NOT. It was hit and miss for the entire stay if the WiFi worked and when it did you could get it to load it would only stay up for 2 or 3 minutes then it would crash.
Fishing again advertised is even risky, the pond is about dried up and is very smelly and brownish colored water with floaties that I was not sure of what it was and by no means would I consume anything from it if I did catch something.
We stayed on the east side of the camp and the smell from the "poop" station (located in the southwest corner) was very strong when the wind was blowing. The shower house was clean and well maintained (best thing about this place).
As for the staff initially we thought they were very respectful and friendly but after we made complaints about the power problems they became less than accommodating. We cut our stay from 5 days to 3. We will not ever stay here again.