Sponsor
Greenbriar Island Campground – Gatlinburg, TN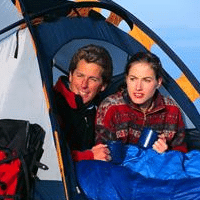 Let me start out by saying unfortunately, my friends are not going to allow me to ever pick a place to camp for us again. It was me who suggested this campground to my sister and friends, mainly because it was the only one I could find that could accommodate their 28 ft camper and our pop up and still place us side by side.
We were celebrating my daughters 11th birthday with her cousins who came up from Florida (We are from Virginia). The day after we arrived to the campground, we found that management was very rude. Our children were playing in the grass with our friends dog, when management came out and yelled "Girls, Girls… get off the grass with that dog. No dogs are allowed on the grass." The area where the children were playing with the dog, had absolutely no signs stating that dogs or people were not allowed. Even the campsite map had a list of rules, but this was not one of them. In other words, there was no way for us to know that playing on the grass was not allowed. It was very embarrassing, since everyone in the surrounding camp area heard and ran out to see why they were upset. Their website says that they provide a large area for the young at heart. We had 4 little girls with us, ages 5, 7, 11 and 11 who were having a great time, however after this incident, everyone in our group felt a bit uneasy. All the kids kept asking if we could please leave, they were all worried about what they were and were not allowed to do in the campground, since playing on the grass with the dog caused such a problem.
In regards to the Greenbriar Island website, it does not show many pictures. I feel that is because all the facilities are run down and poorly managed. The main office picture speaks for itself. Half of the bathroom stalls were out of order, the trash needed to be taken out. It cost a quarter to dry your hands and to get 6 minutes of water for the shower. The soap dispenser was also dirty. I've been camping a lot and I've seen some bad bath houses, this one would have to be on my bad bathhouse list. If you still decide to camp here bring flip flops.
So, needless to say after that we packed up and left that day. Fortunately we were able to find a campground that had one opening, so we left and our friends stayed. The only nice thing that happened at Greenbriar Island was that they did give our friends both nights free. Which was great . We on the other hand went and camped at another campground, it cost twice as much, but was the nicest RV Park we had ever been to. It was classier, cleaner and nicer. Honestly,  if this was the only campground in the Gatlinburg area, I personally would just not camp or I would seriously consider changing my camping destination to Pigeon Forge, just 15 minutes away. I'll have to say my daughter's first birthday will certainly be remembered and spoke of often. I hope this helps in your camping decision.
Sponsor