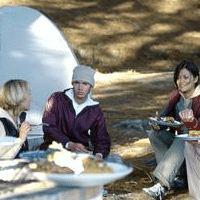 Tremont Outdoor Resort – Townsend, TN
We just had a terrible camping experience in this campground. There were too many rules to remember and the management was not camper friendly. It was more like a Boot Camp.
The campsites were extremely small. The campground was pricy to begin with and there were so many hidden charges. There was a $4.00 charge for every extra car and a $3.00 charge for each visitor to your campground.
The scenery was pretty in the mountains, but not worth the hastle of all the rules.