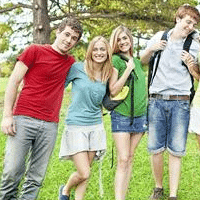 Cherrystone Camping Resort – Cheriton, VA
We rented a cabin at Cherrystone Camping Resort with A/C and a refrigerator. I wasn't prepared for how close together the cabins were. They were all no more than 15-20 yards apart… and right on the road. Unfortunately we got a cabin on the corner of two roads and our picnic table and grill sat on the edge of the road. We moved it between the cabin next to us and ours.
Our cabin was tiny and the refrigerator didn't work. My husband grabbed an employee to let her know and within 2 hours we had a brand new one delivered right out of the box. I was impressed about that and I can say that the customer service is excellent there.
Everything was immaculately clean and taken care of. The bathrooms smelled of disinfectant (a good smell to me) and were cleaned at least 3 times a day. The staff was always busy doing things and helping. The pools were clean and well maintained.
Merchandise in the general store was cheaper to or equal to than the Walmart price in our home area. Our kids had a blast and enjoyed the activities offered. All in all a good trip for the kids and now I need a vacation!