Parkway Lakes RV Park – Morgan Hill, CA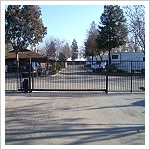 We stayed at Parkway Lakes RV Park for a couple of weeks.  This is a nice, quiet campground with lots of trees. The campground is adjacent to a county park with hiking and biking trails and 2 fishing lakes (with state fishing license).
We enjoyed the hiking! The kids loved the bike trails!
The sites are all back in but the staff helps you get settled in. They have a security gate which was nice as the kids could bike without the worry of cars racing thru the campgrounds. They have a pool but closed for the season so the girls played on the video machines in the rec room. Other amenities include: Paved roads, 24 hour laundry room, 24 hour private mailbox service, Wifi ($), a Clubhouse, Game room, Mini-Mart, ATM, Dump station ($), Propane refill station ($), Video rental, and a lending library.
The staff was very helpful giving all the info of where to go. Most of the people staying here were retired or working… there were not alot of overnighters. We definately will stay there again when we pass thru the area. Great for the price.