Vail Lake Village & RV Resort – Temecula, CA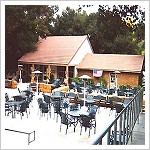 Vail Lake Village and Resort is a very nice campground. There's plenty of things to do for kids including a pool, scooters, bikes, and mini golf. The resort is divided into two different camping areas. The lower section is all dirt with lots of tall oak trees. The upper section is partially shaded with lots of open, grass areas.
This seems to be a campground that appeals to serious mountain bikers because there are always a good number of them camping here. This is a great place to stay for a few days.
The staff is very friendly and treat you like you're one of the family. There's a nice little bar/restaurant and a great deli. There's an video arcade for kids too.
I would stay here again and recommend it to my friends frequently.