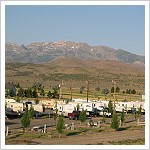 We went to Angel Lake RV Park in Wells for a week not knowing what to expect in the area. We were there in early April and the weather was colder and wetter than normal and because of the weather we weren't able to see some of the area.
There are three casino's nearby, the best being Flying J and Loves'. There isn't much to do in town. They had an earthquake the year before and it did a lot of damage.
The campground is clean as are the bathrooms and laundry room. The owners, the Wrights are a great family and enjoyable to talk with. They made our stay a good one and we would stop there again.