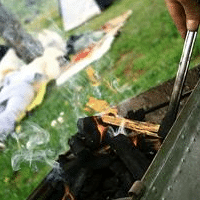 Adair State Park – Stillwell, OK
Adair State Park is small and only has three hookup sites for RV's. Electric and Water hookups are conveniently located on level concrete pads.
The lake is very very small but there is a nice place to fish, with a small fishing dock and bank fishing. There is a nice playground with many families visiting the playground area during the day but it is very quiet at night. There is a large duck population which poop a lot, other than that it a great little quiet park, no swimming but great for fishing.
There is no store within walking distance, but it's very close to town if you need supplies.