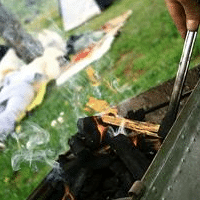 Crazy Horse RV Camp Park – Kanab, UT
The pictures on the website must have been taken years ago. They did have great internet, I'll give them that and the pool was clean.
The green grass, where was it? There was no grass at our site and none or very little at any of the others (which if it would have been present, we would have been sharing with our neighbor). Yes, there were trees, however not at every site, we were actually asked when we arrived if we wanted shade, really? Who wouldn't. It was 100+ degrees in Kanab on the weekend of June 23rd.
The playground… sure glad I didn't bring the kiddies, it was awful, very, very old stuff, made of metal and looking very rickety, you would have burned your backside if you would have attempted to use it (no shade or grass in that area either).
The bathroom/shower… there were 2 toilets. One was out of order and the working one had flushing issues. The showers, (2) they were good and hot, liked that, however they were so small, you had to turn off the water to lather or shampoo up. There also wasn't a bench or shelf of any kind to set your items (shampoo, soap, razor, clean clothes, whatever) and the door didn't reach the wall, which left about a 3 inch gap to take away your privacy.
The picnic table (which you share with your neighbor) at our site was awful, it was filthy (dirtiest I've ever seen), and splintering and there wasn't a BBQ. The fire pit (also shared) was actually an old tire rim, if you were lucky you would have a large one from a truck, but most people had to settle for the small automobile version. We actually saw one mounted on a pole; I guess this was a BBQ (with large holes)?
It was extremely dusty (as there was no gravel or anything else to keep down the dust once you passed the driveway/office area). Bring a satellite dish with you, there's no cable and the campground only receives 2 digital channels on the TV.
I gave them 1 star; for internet, pool, hot water and availability (I guarantee you that we won't be taking up space there a second time). Oh, I almost forgot two more things; the "helpful" on-site manager in the office, she gave us directions to the Kanab Visitors' Center to get info on the local area. She said she hadn't been there in a while and didn't know anything. Lastly, the "activity" room, for lack of a better word. There were 2 very old pool tables there with warped pool cues, also a couple of other things in there to do, but, my mind escapes what they were.