The one word that comes to mind when describing Normandy Farms is "classy". This campground is right up there with the best of them in the country. From the moment you enter the property you know you're not in just at another campground. We've camped here several times and are always impressed when we visit, most recently this past weekend.
Pull into Normandy Farms and the first thing you'll notice is the architecturally beautiful open beam Welcome/Registration Center. Check in is typically quick and easy but we arrived on a Friday afternoon and it was quite busy. If you prepay for your stay and it's not your first visit to Normandy Farms, you can use the "Quick Check-In" lane. You are also escorted directly to your site after you check-in.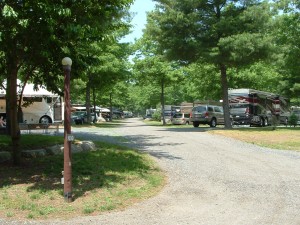 The property is very nicely landscaped and well maintained. If you're into horticulture you'll appreciate the extras they've put into the grounds. We noticed many fairly unique specimen trees and shrubs scattered throughout the resort.
The campground is fairly large, with over 400 sites from open and sunny to wooded and include a good selection of sites for big rigs. Most sites have full hook-ups (30/50 amps). A word of caution… we elected for full hookups including cable TV. The sites with these services are extremely small (see the above photo). Unless you really need cable, I suggest you ask for a full hookup without cable. Those sites are much bigger and, since you're less than 20 miles from Boston, you'll get more than enough channels to keep you happy.
Only the major interior roads are paved. The rest are gravel, nevertheless well maintained. Sites are gravel, and level. Site sizes vary greatly (see above). WiFi is now free (it was previously an extra charge). The signal level at our site was very strong, however there were several occasions during our stay when we couldn't connect. When it's working, WiFi is a great way to keep in touch with family and friends via email.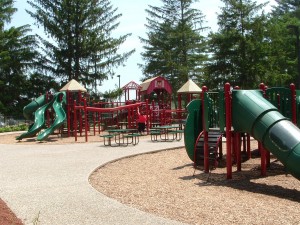 Normandy Farms is truly a "destination resort". You can stay here a week or more and never really need to venture out of the park. 3 outdoor pools, jacuzzi, an indoor heated pool, sauna and fitness center are just a few of the perks at this campground. During our stay there was an RV show on the grounds all weekend. The show's sponsor even included a free pancake and sausage breakfast for all park guests!
I won't go into the finer details of the other amenities available at this campground. Believe me, they've got it all and they do it well. Check them out.