Paradise Park Resort Campground is an older campground located within walking distance of Old Orchard Beach, a summer resort area on the southern coast of Maine.
Our check in only took a few minutes. The office attendant was very nice, welcomed us on our first visit to the campground and assured us of a great stay. We were escorted to our site and were helpfully directed as we backed our 38′ Class A into our space.
As I mentioned, this is an older campground. Most of the sites here were comfortably large in their day, but couldn't accommodate many of today's RV's. Not to fret, they have recently added new section in the rear of the property with larger sites to accommodate bigger rigs.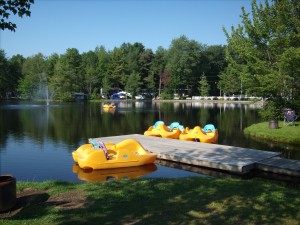 The centerpiece of this campground is "Milliken Pond", a scenic little body of water complete with fountain where you can fish, paddleboat ($) or just sit and relax. There are several nice bench spots located around the pond.
Most interior roads are paved and in excellent condition, however there are some tight spots to navigate if you have a larger rig. The office building also houses a small store with limited grocery and camping items. Prices are a little high, but not unreasonable. A small arcade, bathhouse and laundry are also attached to the office building.
Close by is a pool with spa, a playground, shuffleboard, basketball and volleyball courts. While some of these amenities are a little on the old side, they are clean and very well maintained.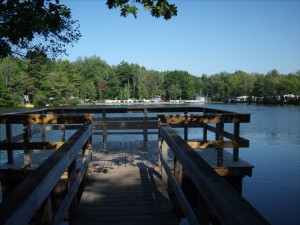 A newer section of the campground, located at the rear of the property can accommodate larger RVs and has it's own pool, bathhouse and laundry.
Every site has a picnic table and a "fire ring". I've seen fire rings made out of many recycled items… truck wheels, oil drums, but never like these. They appear to old washing machine tubs (check out the photo below). Actually, they work quite well… they just look a little weird.
This majority of this campground consists of permanent and seasonal and sites, and some look like they date back to the 60's. For the most part they are neat and clean, but some are not and detract the the others. If you are the kind of camper that feels seasonal sites detract from the camping experience, steer clear of Paradise Park.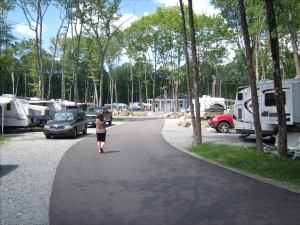 Paradise Park Resort has free wi-fi. From our site in the new section, the signal was nice and strong. However, bandwidth was extremely limited and internet access was frustrating because it would come and go often. Forget typical high demand times. If you really want a stable connection, you'll have to do it at odd hours when you're not sharing the connection if everyone else.
Our site include cable tv but the selection was limited to about 15 channels and the signal quality was extremely poor and some channels were unwatchable.
Typically, there are always campers who can't follow basic camping etiquette, and this campground had it's fair share while we were there. Barking dogs, loud motorcycles and parked vehicles in the roadway to name a few.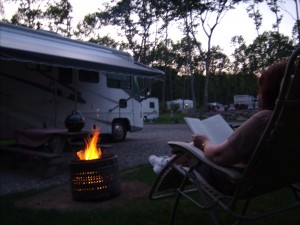 There was one thing about this campground that really impressed us… watching the ground crew do their thing. Several of our neighboring campers check out and it wasn't more than 5 minutes later when a crew of 4 swarmed the sites to manicure (and I do mean manicure!) every square foot. They went way beyond the call of duty here. Hat's off to these guys!
Paradise Park is the closest campground to Old Orchard Beach. A 10 minute walk will take you to all the action. You can easily spend several days visiting all the beach attractions.
All in all, we had a pleasant stay despite few negatives. If we ever consider another trip to Old Orchard Beach, this would be our first choice.