Skowhegan/Canaan KOA – Canaan, ME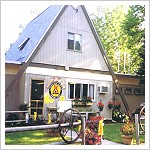 We visited the Skowhegan/Canaan KOA last summer for 15 nights. This is one of, if not the best campground we have ever stayed at. This is not a booming area but enough to keep you busy. You can do day trips to the coast, etc and explore the many area towns and parks.
Our hosts Don, Beth and son were OUTSTANDING!! They kept the show rolling. They have a lot of activities, very clean facilities, and a very well stocked store and game room. They need to be awarded for their work. You will get tired just watching them work so hard to make your stay a pleasure!
We will be back and it's a short ride off I-95 if you need a one night stay. Ray&Joy from New Jersey