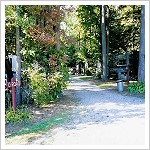 Rusnik Family Campground is located off US Route 1 and about 3 miles from the beach in Salisbury, Massachusetts. It is a campground with 150 open and wooded sites.
They have a pool, kid's playground, horseshoes, rec hall, a mini golf course (which could use a little TLC), and laundry facilities. The bathrooms were clean as is the campground itself. Most of the sites are water/electric, but no sewer that we could see. They have a couple of dumping stations (one where you have to back in to dump).
There are lots of trees and shade at this campground, however the roads are quite narrow with some tight turns where the trees are not cut back enough. Coming in and going out, we scratched the side of our RV with many tree branches. It was very tight for larger campers to maneuver into their sites.
The sites were also a little on the small side, but we found that true at most coastline campgrounds. We had a site that was barely big enough for our camper, truck, and fire pit. Had to move the picnic table under our awning to have enough room to have a fire. They do have a few sites for big rigs that are easy to get into in an open area. These are located before you get to a tight turn.
In general the campground is good. Rates were reasonable and the staff was friendly and accommodating, but they really need to open up the roadways/sites for larger vehicles.