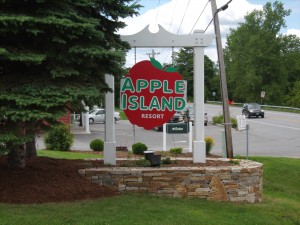 Apple Island Resort is located in the Champlain Valley Region of northwestern Vermont. The resort is approximately 6 miles from I-89, exit 17 on US Route 2.  Apple Island Resort includes a campground, a 9-hole golf course, marina and general store.
We arrived on a Friday afternoon in July for a weekend stay. The drive up I-89 from New Hampshire is absolutely beautiful and this part of Vermont's Champlain Valley is especially picturesque. Our check-in was quick and the front desk attendants were friendly and efficient.
The campground is fairly large (242 sites on 188 acres). The property is a mix of open, sunny areas and tree shaded. The grassed areas and landscaping was neat and well maintained. The bathrooms, showers and laundry facilities were all newer construction, very clean and well stocked.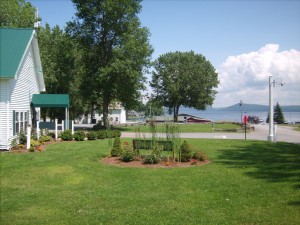 The major interior roads were paved and well maintained. The side roads were packed gravel, some a tad narrow but still in good condition and navigable to even the largest RVs. Our pull-thru site was level and a confortable size with plenty of room for our awning and slide outs. All sites have a picnic table and a fire ring.
Campground amenities include a large new "community" center with a fitness room, library (with an Internet-enabled PC), and a large function room. Next to the community center is an Olympic-size heated swimming pool and hottub, restrooms, showers and a laundry room.  There are two other restroom buildings located elsewhere in the campground.
The resort also has a small, 9-hole par 3 "executive" golf course and a full service marina… definitely amenities that set this campground apart from most.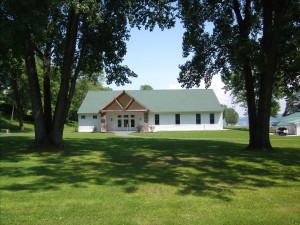 Rounding out the feature list is a small playground, walking and biking trails and a respectable schedule of activities for both kids and adults. There is a general store located at the entrance to the campground. The store stocks groceries and camping supplies. They also serve breakfast and lunch items. The campground is also "pet-friendly".
The resort has a great wi-fi system. I noticed several hotspots as we walked through the property and we were able to "see" several of them from our site. The signal was strong and consistant.
Apple Island Resort is a great campground to spend a few days and a perfect base for exploring this part of Vermont and Upstate New York. That said, it's not without a flaw or two…
At least half of the sites at this campground are either permanent vacation "homes" or for seasonal campers. While that may not be a factor for some, we do find that it takes a bit away from the camping experience. I will say that these permanent sites are clean and very well maintained, which is more than I can say for most campgrounds.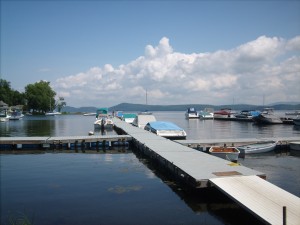 With the high number of permanent sites (as well as the golf course) comes a lot of golf cart traffic. It wasn't unusual to see several carts buzzing past our site at a time throughout the day (and evening). If you've got little ones, keep an eye out for them… carts don't make much noise.
Apple Island Resort also boasts of a snack bar, which we were looking forward to trying… but it was closed. One of the resort employees told us that they did not open it this year because they were trying to get their general store off the ground and the snack bar would be competition.
And while we're on the subject of the general store, most of the items on the shelves don't have prices. What's up with that? You find out what something costs when you check out (an it's usually too expensive). That's very inconsiderate to customers and it stopped us and a few others from spending money there.
There is no cable TV at this campground. However Burlington, Vermont and Plattsburg, NY are within signal distance so you can receive the major networks, including the digital subchannels with an antenna.
While the campground does have rules, there always seems to be campers who feel they are the exception. Every night there were quite a few kids riding their bikes through the campground in total darkness. There were also a group of campers who felt the need to test the limits of their stereo and play their music as loud as possible all day long. We really felt sorry for the campers near this group. I know if we had a site near this group, we would have left for another campground. They did at least have enough courtesy to tone it down during quiet hours.
That being said, Apple Island Resort is still a wonderful campground. It's well maintained, has lots of amenities and it's located in a beautiful part of Vermont. It's just not for us.