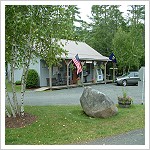 This is an update of a previous post. Pine Valley RV Resort is now Quechee/Pine Valley KOA.
With the last weekend in July free, we decided to spend a few days at Pine Valley RV Resort in Quechee, Vermont. Being peak camping season we weren't sure we could even get a site, but called anyway… We were in luck! Just one site left, water and electric only, so we booked it.
Pine Valley is a relatively small campground with about 90 sites, roughly half are full hookups. Because of their proximity to Interstate 89 (just a minute or two from exit 1) they cater to the overnight traveler. But this park is more than just an overnight stop. It's really a very nice campground to spend a few days at.
While the property is close to I-89, it's just far enough away not to hear Interstate traffic… although sites in the lower section of the property will hear traffic from nearby US Route 4.
The campground staff was friendly and accommodating, both when we called to make reservations and when we checked in. In fact, when we arrived there were several customers ahead of us. Noticing the line, another employee asked us if we would like to go directly to our site and just stop back later on to register when it wasn't so busy.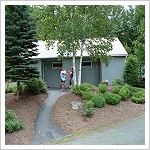 The property is extremely well maintained and neatly landscaped among tall, mature white pines. Interior roads and individual campsites are gravel. Most sites are a little on the small side, especially the pull-thru sites in the upper section of the property. This upper section was built on the side of a hill and most of the sites there are terraced. In fact, there was barely enough room for our slide outs and awning. You may also need to work with your jacks, as some sites could use a little leveling. The campground's only rest rooms and showers are in the lower section too. While the sites were small and facilities remote, the upper section of the park is a lot more private and quiet.
Pine Valley RV Resort has a very nice, well stocked campstore with a limited selection of groceries and camping supplies. There is a laundromat and heated bath house with free showers, a swimming pool and a small pond where you can canoe or pedal boat (rentals). They also have a playground and recreation hall. Pets are also welcome here. As an added convenience, an RV Service and repair shop is located on the property! Just across the street is a general store with 24 flavors of ice cream and a daily BBQ during the summer. A gas station with a Dunkin Donuts shop is also within walking distance.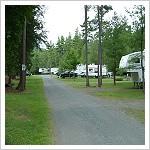 You'll need a car if you want to visit nearby attractions. Besides the General store, there is little within walking distance. Quechee and the Upper Valley region of Vermont and New Hampshire have plenty of attractions, so you can easily spend a week or more here. Check out the Quechee Gorge area just a mile or two west on US Route 4. In addition to the gorge there are several restaurants, gift shops and a large antiques mall to explore.
With only a few shortcomings, Pine Valley RV Resort is a great little campground. This was our third visit here and we plan to visit them again next summer!