Potlatch State Park Campground – Hoodsport, WA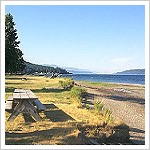 My husband and I camped at Potlatch State Park Campground last summer and really enjoyed ourselves. They recently opened a new section of campground that was formerly owned by Minerva Beach that has more RV hookup sites, and if you head up the hill there are some great tent camping sites which is what we did.
The Park straddles Highway 101 and is very easy to access. Check in is easy, you just put money in an envelope, tear off the receipt, and drop it in the box. Then you put the receipt on a little board by your campsite.
When we camped, there were two sets of camp hosts. When we wanted to buy firewood we managed to catch a time when they were both on break, but a Park Aid helped us out.
The park was very clean. There were Port-A-Potties up by where we camped, but it was just a short walk down the hill to normal bathrooms. There is a coin-operated laundromat in the parking lot and pay showers in the bathrooms in the older campground area.
The day-use area has great waterfront access to Hood Canal. There is a large grassy area with scattered picnic tables and grills. There is a reservable shelter with picnic tables underneath that looks like it would be great for a summer group get together.
You can dig for clams and oysters when they are in season, just make sure you have a shellfish license and shuck the oysters on the beach because you are not allowed to take the shells. Potlatch is a popular site for scuba diving due to its easy descent.
Unfortunately, the park lost most of its trails to the access road that the Skokomish are building, but there is still a small trail you can follow if you explore the park.
Potlatch is only 3 miles south of Hoodsport which has a winery and some cute local shops. Lake Cushman is also a short drive away. It's a great park for those wanting to visit Hood Canal!