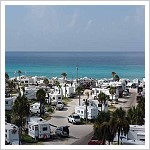 We recently stayed at Camping on the Gulf Holiday Travel Park in Destin, Florida. The people that assisted us at the check-in process were very friendly and the process was fast. We were escorted by beach patrol, as there called, to our designated spot. Throughout the property there is a 4 1/2 MPH speed limit. I thought that was great, because the amount of kids that I saw I'm glad there thinking of the little guys.
Upon arriving at our spot we were guided and positioned at our spot. They have a large family bath house that was always well maintained. The dumpster area was always cleaned and being cleaned especially in the morning. There is always a beach patrol golf carts roaming around and there if you need some help.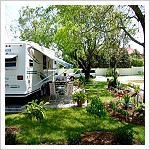 There is a large recreation room that had two pool tables, sofas and a large TV. Outside the rec room there was a basketball hoop and swing set for the smaller kids. There is some type of activity to do everyday, you just have to look at the billboards they have hanging around.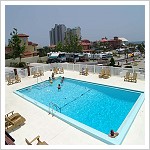 As for the beach it was very clean. I recommend if you want a nice spot at water's edge to get there early and set-up your stuff. Nobody bothers your stuff as people would leave to go back to there motorhomes or campers, leave there stuff and come back a few hours later.
There is a very large outlet mall about 1/4 mile up the road. Walmart is located 6 miles and there is a large outdoor mall approximately 4 miles from the campground.
Overall our experience at Camping on the Gulf was great. We had a fantastic time and will be returning next year for a full week.