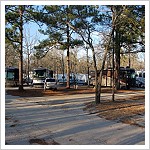 When you want to be off the beaten track, Lazy Acres Campground is your place. The easy access from I-95 makes this campground campground a perfect rest stop for a night, or stay a while and take a break from the highway.
Every site here is level and shaded, some with concrete slabs. The showers and toilets are adequate, and the pool is immaculately maintained. There is a stocked fishing pond that requires no license. Firewood and ice are available in generous proportions.
Lazy Acres Campground is adult oriented with few amenities for children, which adds to the charm. All the attractions of Fayetteville are nearby for day trips.