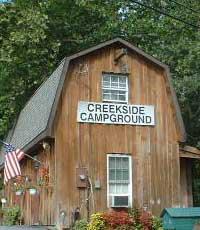 Creekside Campground – Edinburg, VA
Creekside Campground is a gem! It's an easy hop from I-81 in the beautiful Shenandoah Valley (Edinburg Exit 279).
All the camp sites are on or near a tranquil fishing stream for big rigs to tents. They offer full 50 amp service down to tent sites. It's location is an easy walk to an historical Civil War era town with an authentic mill and museum, as well as local restaurants. It's also close to the Woodstock, Virginia antique shops.