Sugar Barge Resort and Marina – Bethel Island, CA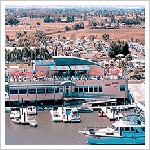 We enjoyed 4 days at the Sugar Barge Resort and Marina on Bethel Island on the Sacramento Delta in March of 2009.
Sugar Barge Resort is well maintained, the staff is friendly and helpful, and the restrooms and showers are very clean. The only down side to this park is the fact that the restaurant was closed when we were there.  Individual capsite spaces are grassy and include a concrete patio.
The property gates are locked at night, but one can come and go through the front gate with the code.
All types of watercraft are available for rent at this resort, and  the playground and heated pool should keep the youngsters happy during your stay. We are looking forward to returning.