Tahoe Valley Campground – South Lake Tahoe, CA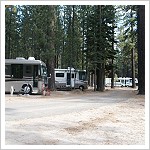 Tahoe Valley Campground is a nice park with a wonderful ambiance among the tall trees of this scenic valley. The park is located right in town and close to all the casinos, yet it's tucked away and back in among trees, so you really feel like you are in the boonies.
The staff was wonderful, very friendly and accomodating… they didn't know the meaning of the word "no". One nice touch when we checked in: a member of the staff will drive you around to select your site in a golf cart!
Tahoe Valley Campground had a good variety of amenities including a playground area, pool, basketball court, ping pong and video arcade. There's shopping nearby too! Great atmosphere. Will be back again and recommend this park to our friends.