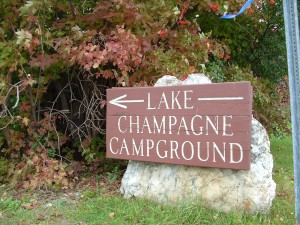 With New England fall foliage near peak, we decided to spend an October weekend camping in Central Vermont. We've always been aware of Lake Champagne Campground as we have passed thru the area many times. This time we decided to give them a try.
The park is conveniently located a short distance from I-89, exit 4 in Randolph Center. Once you leave the Interstate you climb up a relatively steep grade for about a mile to the tiny town of Randolph Center. A left at the top of the hill, a right past "Floyds" General Store and you're there.
Check in was quick and easy. The campground owners were very friendly and accommodating and went out of their way to make us feel welcome. The park is situated on the top of a ridge with a view of the campground and hills to the east. The property is large… about 100 acres and a lot of that is open area, mostly grass… lush, deep green and regularly mowed. Most sites have a view and are in open, sunny field areas but there are a few locations with plenty of shade. The tenting sites are really nice… isolated from the rest of the campground and in the woods. Sites are relatively level, on grass or gravel. Pull-thru sites can accommodate even the largest rigs and have full hook-ups including a very generous cable TV lineup.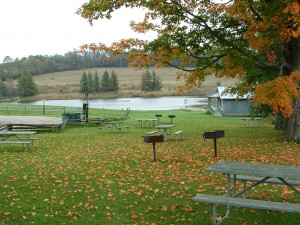 The facilities were clean and well maintained. We noticed the little extras… like a basket of dried flowers on the counter in the rest room. The main office (photo above) has a very small campstore with just the basics. However, just outside the campground is Floyd's General Store which is where most campers go to pick up their groceries. They have a large rec room with ping-pong, pool and a few pinball and video games.
As you pass thru the campground and decend down open fields you'll see "Lake Champagne" (photo right) which is actually a small swimming pond with picnic tables, grills and rest rooms. On the other side of the pond is a pavilion with one side open to views of the beach. Inside is a large central fire pit and tables (photo left). Although it was late in the season and the campground was only about 20% full, the fire burned and there was plenty of wood available to keep it going.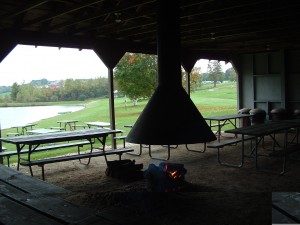 Our stay was brief but enjoyable with only one disappointment… The Lake Champagne Campground website advertises "WI-Fi available". However the range was extremely limited and the vast majority of their sites were well out of range. I wandered throughout the park with a laptop trying to get a signal without any success. Our site was relatively close to one of two transmitters on the property but no luck.
Other than the Wi-Fi issue, this was a great little campground and one that we would confidently recommend to our friends. We'll be back next summer!