Finally! After a long, cold and snowy New England winter, camping season was officially here. Yeah, I know… it's only May and I remember plenty of cold and rainy Memorial Day weekends, but even a bad weather vacation day is far better than a good day at work.
Our first camping trip of the year has always been an opportunity to see how well the RV made it through storage… but this year was different. We traded in the old RV for a brand new 38′ Class A and this was the first real opportunity to play with our new toy.
Ledgeview Village RV Park has been a regular stop for us over the past 15 years and we've never been disappointed. Since it's been a year or two since our last stay, we decided to make it our first trip of the season.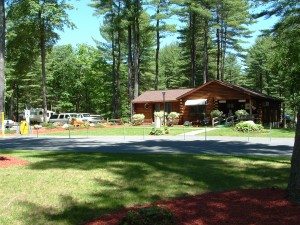 Ledgeview Village is located about midway between Glens Falls and Lake George, New York, just west of US Route 9 on NY Route 149. The first thing you notice when you enter the campground is that this park is beautifully maintained. The gated property is always neatly mowed and landscaped. The paved entrance is wide and accommodating with plenty of room even during busy check-in periods. The owners and staff are friendly and accommodating. I stopped in about an hour after check-in to pick up some literature about the area and the person at the front desk went out of her way to ask about my interests and then pointed out a few publications that had what I was looking for.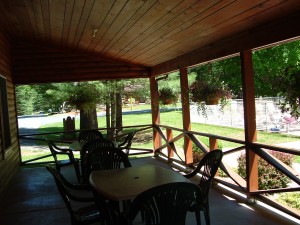 The entire property is set in a forest of tall white pine. Most of the campground buildings are a rustic adirondack architecture. Interior roads are paved and well maintained, although a some are a little narrow. Nevertheless getting around won't be a problem even if you've got a larger rig. Campsites are gravel, fairly level and comfortably large. Full hook-ups (30 & 50 amp) also include cable TV with an impressive amount of channels. Each campsite has a large picnic table and fire ring. The only problem we've had with our site was the amount of pine pitch that drips from the trees… but just about all the sites here are under pines so you just have to deal with it. Tents and pets are not permitted at this campground.
The laundry, restrooms and showers are clean and well maintained. Showers also include private dressing rooms. The park campstore has a good selection of basic groceries and camping supplies including ice and firewood. Park amenities include a large pool, recreation hall, pavilion, game goom, shuffleboard, horseshoes, children's playground and "funcycle" rentals. Be aware that there are no scheduled events, so more active kids may become a bit bored. The Glens Falls/Lake George however is a great place to explore with the kids. The Great Escape/Splashwater Kingdom, a Six Flags theme park is just a few minutes away from the campground.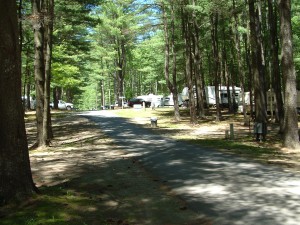 Ledgeview's rates are very reasonable, considering the fact that the Lake George area is a bit on the expensive side. I would suggest buying your groceries and gas before you leave as prices are generally much higher here.
On the downside… the seasonal sites seem to be located throughout the park, with a number of them as you first enter, and there seem to be a few more every time we return. We all have a tendency to add a personal touch or two, but some of these sites are starting to resemble mini golf courses with statues, flags, low voltage lighting and painted rocks. Clean but cluttered.
Ledgeview Village RV Park is indeed what their ads boast: clean, peaceful, quiet and convenient. We confidently recommend this park.