We were more than pleasantly surprised with our weekend stay at Pine Acres Family Camping Resort. The park is located in Central Massachusetts, about 15 miles northwest on Worcester in the town of Oakham. It's a little off the beaten path but well worth the trip.
Our check-in was quick and the office staff made us feel right at home. We were escorted to our site by a friendly gentleman in a golf cart who asked if we were first time visitors and then reassured us that we would have a great stay. It turns out he was indeed correct.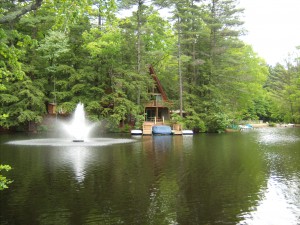 Pine Acres is a larger resort. They report 350 sites, all types and sizes. From very remote, primitive tenting sites to full hook-up premium lakefront locations. The Premium Lakefront sites were on the expensive side ($75/night), but since this was our first visit we decided to go for it. Despite the price, we were not disappointed.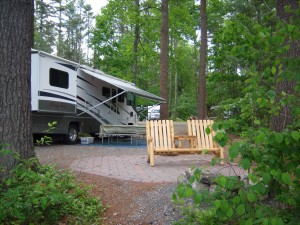 Our site was a comfortable size, with adequate room for our multiple slide-out 38′ Class A. The site included an oversized picnic table, complete with a cobblestone patio with a rustic double timber chairs overlooking Lake Dean, a small (70 acre) lake. Most of the heavily traveled interior roads are paved and wide enough for larger rigs. Once you get into some of the more remote locations, access is a tad more difficult via gravel roads(and some can be a little steep)… but if you're a tenter there are some pretty isolated spots.
The restrooms and laundry facilities were clean and well maintained. In fact, my wife commented that these were among the cleanest that she has ever seen. Over the past 25 years we've stayed at campgrounds all around the country… so that's saying a lot.
There are lots of amenities at this campground. I'll try to cover most of them here…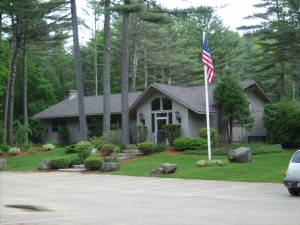 A small marina is located near the park entrance and the main office building. The marina includes "Uncle John's Bait Shop" a boat launch area and boat slips (the fountain is a nice touch!). You can fish for bass from the beach or rent paddle boats, canoes, rowboats and kayaks here.
Near the center of the campground is a complex of buildings and attractions. The pool… actually its more of a water entertainment area, is impressive. The pool itself is free-form, quite large and includes a spa and several water features that would keep most kids busy for hours. There's also a poolside bar that's open during the warmer months.
The complex has a nicely landscaped, reasonably priced ($3) mini-golf course, basketball, volleyball, and tennis courts as well as a playground for younger kids. "The Lodge", is a large recreation hall that includes an adult lounge and "The Cave", one of the largest video arcade rooms I've ever seen at a campground.
Across from the Lodge is "Pine Acres Country Store" a small, but nicely stocked convenience store carrying all the basic camping necessities. There's also a 50-seat full-service snack bar serving breakfast, lunch and other goodies including ice cream. Prices are reasonable and the food is good. The same building houses restrooms, showers, a public telephone and an ATM machine.
The campground offers free Wi-Fi (Tengo). On a walk through the campground found several wi-fi repeaters, so coverage appears to be good. The signal from our site was a little low, but we had no problems connecting. They do have a 48 hour bandwidth limit but the limit is high and should be adequate for even moderate use.
You may be asking, "there must be something negative about this campground?". Yes there were a few, but relatively minor…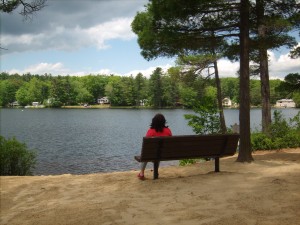 There appears to be just a single dumpster for your trash and it's located near the entrance to the property. This is a large campground and it's quite a hike to the dumpster for just about everybody. Adding a second location would be a great idea.
Pine Acres is pet friendly and the campground owners make every effort to accommodate your pet. They even have a pet beach! Just about every pet owner here was considerate of other campers… except for two. One never kept their dog on a leash, the other couldn't keep their dog quiet. Its not the fault of the campground. You'll always find a few inconsiderate campers at every campground.
This is truly a family resort and all in all, one of the most pleasant camping experiences we've had in a long time. This one's a keeper. Keep up the good work Pine Acres!