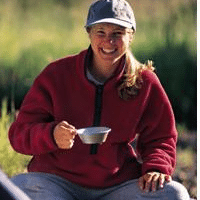 Prairie Cove Campground and RV Park – Ashby, MN
This park is one of those gems that if you are fortunate you will stumble into maybe once in three years. I had driven 280 miles through and Montana and North Dakota to get to Fargo for a three day sit for maintenance. That didn't work out. So I continued east to the first campground in the book. I planned and overnighter. It is so nice, I stayed 4 days. I would like to have stayed longer.
It's easy off easy on from I-94, exit 77, a few hundred yards north. Though it's convenient to the interstate, there is no noise problem. As I write I'm sitting in the drivers seat, looking at two lakes, a meadow, and acres of green corn. I'm surrounded by grass and trees. The WiFi is great. Sprint cell service is great. The couple who own/manage this park is great. He's a former combat Marine, she is meticulous in keep the place looking perfect.
If you like to find a perfect place to relax, read, whatever is your bliss, this is it. For kids, there are acres of mowed grass to run, play baseball, football, etc. There is a play ground structure with 10-12 stations, that will keep younger children occupied for hours. It's a great place to chip gold balls or give your dog and yourself a nice walk.
If you are close and it's time to stop, give this place a try. You'll enjoy it.
There is another RV campground about 9 miles south of I-94 off of the same exit. I happened to drive by, so I took a tour. It's probably 80-90% seasonal and permanent campers. I wouldn't call it big rig friendly. I wouldn't be comfortable taking my 42' motor home there. In fact, though the campground was full, I saw only one motor home.