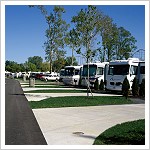 Cedar Point is the undisputed roller coaster capitol of the world and this theme park also has a great RV park right next door.
Sandusky is located in Northern Ohio, just off Ohio Route 2 on the shores of Lake Erie. Cedar Point is a sliver of land that juts out into Lake Erie and the theme park and campground are located here. The concept is a lot like Disney… a destination vacation with everything located on the property.
The first thing you'll notice is that the campground is right next to the theme park. In fact, campers have their own entrance to the theme park. That's very cool!
The campground has 283 sites, but only 59 full hook-ups. All full hookup sites are paved and include electricity (30/50amp), water, sewer, and cable. Water is only available on the full hookup sites. All sites have a charcoal grill and picnic table. Ground fires and tent camping, either alone or in conjunction with your RV, are PROHIBITED.
Campers can purchase discounted tickets to the theme park at the camp store where you will also find a limited selection of groceries and camping supplies.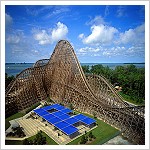 Individual sites are a little on the small side, but it's understandable when you consider that they pack a lot into this small penninsula of land on Lake Erie. All the sites though, are level, very clean and well maintained. A few have a bit of shade but most (RV sites) are open.
Cedar Point Camper Village is not where you would want to go for a little privacy, it's simply ment to be another accommodation option when visiting the theme park. In that respect, it's a great place to camp.
Get up in the morning to a freshly made plate of ham, eggs toast and coffee. Casually prepare for a day at the park while you hear the faint clank of the coaster tracks. Then, just a few steps away you enter the campground's private gate to the park and you're there! No lines, no waiting! Spend a few hours at the park and then head back to your RV for some lunch and relaxation then head back to the park when you feel like it. For theme park lovers, it doesn't get any better than this!