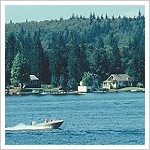 This is a small state park. The web site indicates that it's located 18 miles northwest of Everett, Washington but it's actually closer to Stanwood. Although there is a check-in station, it's only used in the summer. During "off-season," you must self register.
The higher numbered spots, which are non-utility, are closed in the winter. The utility sites, which are both pull-through and back-in, have water and electric only, no sewer. There is a sewer dump with easy access on the way out of the park. The electric service is 20, 30, and 50 amp.
The pull-through sites are in an open area, are somewhat close together, and can only accommodate RV's up to 30 feet. The back-in sites are in the trees behind the open area are a little more spacious and can accommodate larger RV's. The non-utility sites are located throughout the tree area. Some of the non-utility spots near the outer edge of the park are along a fence-line that appears to border a private residential area.
Each camping site (both utility and non-utility) has a picnic table and a nice fire ring. The sites that are used all year have a sturdy picnic table made from recycled materials. The sites that are used only in summer have either a wooden, or wood/metal picnic table. Some of the sites are designated "pair" sites for people traveling together.
The day-use area has a kitchen pavilion for groups, and an amphitheater. Restrooms were ok, but not really clean. And, typical for Washington state parks, the showers were 50 cents for three minutes.
This is a good park if you are a boating enthusiast, as it is located close to a Lake Goodwin. Another camper that was there at the time had a fishing boat, caught a lot of trout, and gave me one of the caught trout. If you are not a boating fanatic, this park is good for an overnight (or for taking a new RV out to put it through its paces).