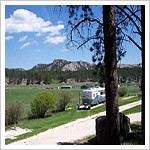 If you can't find an RV park or campground near Custer, South Dakota, you just aren't looking. The billboards and signs are a distraction from the natural beauty of the area. Most places we saw from the road were no-shade, lined-up tight RV Parks. If you read enough of my stuff, you know we seldom make reservations. I had a list of three places to look at, and Roost Resort was a decisive winner.
They really feature top-of-the-line cabins and cottages, and have a small campground in the back of the property. Class A's and large 5ths would be pushing the envelope here. There's only a few sites on the property, each with a great view of the Black Hills. Only two-way hook-up is available and a dump station upon departure. Everything about the property is clean, quaint and quiet.There are no recreational amenities. Our most exciting activity was to watch the sunset over the Black Hills and count the deer surrounding us.
Mount Rushmore, Crazy Horse, Hot Springs, and Custer State Park are all nearby. We also enjoyed Bear Country USA which is a drive-thru wildlife Park. Take the time to drive to the peak of Coolidge Mountain. Using the pay-per-view binoculars you can clearly see Rushmore and Crazy Horse plus several natural landmarks.
The Wildlife Loop in Custer State Park will put you face to face with the largest bison herd in North America. We found the herd as a thunderstorm was coming so they were on the move. It was exciting as the giant animals strolled past our truck.
The Roost Resort is a quiet little paradise for small to mid-sized units. The tent area is shaded, grassy, and private with a nice view and close proximity to toiletries. Our 25′ Trailer has a low profile so we fit very nicely. I'm not sure I would try it with anything bigger.
But here's the real love… we stopped for groceries in downtown Custer and found thick cut T-Bone steaks for $1.99/pound!!! Our freezer was just too small but our stomachs were just the right size.