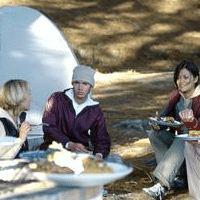 Salem Farms Campground – Salem, CT
We weekend camped at Salem Farms Campground for two years. The owners are great people. They work very hard for their campers.
The park is clean and well maintained and the bathrooms are awesome. Each site is approximately 40 x 50 ft., and a minimum of approximately 2000sq ft. All sites have a picnic table and fire ring. Also each site includes free cable tv and wi-fi. They have new playgrounds and a new snack bar and ice cream stand. Wow!
The campground is a short drive from lots of attractions including Mohegan Sun and Foxwood's Casinos, Tantaquideon Indian Museum, Mystic Seaport, and the Mystic Marinelife Aquarium
Salem Farms Campground is truly a family park. Family owned and operated.