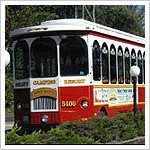 This campground is made for families! Our annual summer trip to Maine often includes camping at Bayley's Resort.
This RV resort is relatively large, with over 400 sites. You'll find sites in wooded areas, in fields and near their pond. Depending on what area you're in, sites can be close together or fairly private. Full hook-up are available and include cable TV. The general store is a fairly good size with a limited selection of groceries and camping supplies.
The kids will have plenty to do here. They have 3 heated pools, 3 playgrounds, 3 fishing ponds, a game room, paddle boats and mini golf. There's also an Outdoor theatre with some pretty good entertainment during the summer! Bayley's has a rental center where you can rent bicycles and kayaks with plenty of places to use them right on the property. We usually try to get a site in section "T". It's towards the back of the property and far enough away from all the activity for some peace and quiet.
One of the nice amenities of Bayley's is their complimentary beach and tour bus. Bayley's is just a few miles from Old Orchard Beach, the most popular seaside amusement community in Maine. If you haven't been there before it's worth a visit. Portland is also close by with shopping and other things to see and do.
This campground is a bit on the expensive side, even when you consider their location and all they have to offer. Try for one of their specials or visit during the off season for better prices… but then again, there's something about camping in the summer when campground activity is buzzing and Bayley's is in full gear.