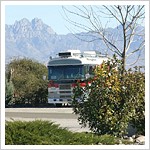 This is a lovely campground! The facilities are clean and the property is well maintained. We camped here in our brand new fifth-wheel last weekend.
Even though many of the southwestern campgrounds we have stayed at are wide open with little privacy, this campground has some more mature vegetation between the sites which helps greatly. They do offer wi-fi but the coverage is spotty… you may have to locate yourself a little closer to the clubhouse if you want to use your laptop from your site.
Interior streets are paved and each site also has instant-on phones with private number, cable TV, and 30/50 amp service. Large suites and extra long spaces are also available. They have a large clubhouse with a covered patio and fireplace, private showers and dressing rooms, a laundry, exercise room, and a spa. They have an complementary breakfast every morning and a Margarita Party every Friday too!
The campground is within walking distance of historic Old Mesilla (Billy the Kid's hangout), specialty shops and restaurants. It's also only a few minutes to downtown Las Cruces, the second largest city in New Mexico.