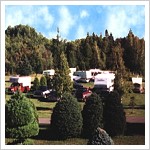 My Brother's Place is a small campground very near the Canadian border, located just off US Route 1, about 2 miles from I-95, exit 302.
The park is clean and well maintained. The sites are large with plenty of room and most are pull-thrus on grass. The campground has plenty of trees but the sites themselves are relatively open and sunny. Interior roads at this campground are a little narrow and larger rigs may brush against a lower branch or two.
There is a network of well maintained field and forest walking trails running by several small ponds. The facilities are clean and well maintained. Wi-fi is also available here.
My Brother's Place is in a rural area with the nearest shopping about an hour away. This is a good place to stay for a day or two.