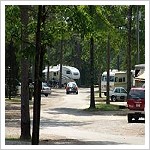 Noccalula Falls Park & Campground is owned and operated by the city of Gadsden and located about 5 miles from downtown. The property is one of the cleanest that we've ever stayed at.
Campsites a good size and are on level concrete pads. Some are full hook-ups with cable TV. All facilities are very clean and well maintained.
Noccalula Falls Park has a beautiful 90′ waterfall, botanical gardens, hiking trails, a sightseeing train, playground, and mini golf. There are plenty of walking trails throughout the park and plenty for the kids to do. The pool area is great, and there is well stocked campstore with a good selection of groceries and camping supplies.
Nice park. We recommend it!